Learn Submission Fighting
Have you always wanted to learn submission fighting, but you just didn't know where to go or who to trust to teach you? Perhaps lessons were just too expensive. Well if that's the case, we think you'll enjoy knowing that now that you can learn submission fighting techniques by watching our Internet video training program on your computer in the comfort of your own home.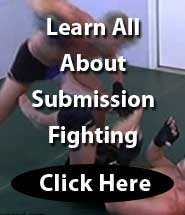 No matter what your reasoning is for wanting to learn such techniques, learning at home using Internet video can be one of the most effective ways to learn in this day and age. Now you can build your skills at your own pace. Tap into our expert instructors' knowledge base. Whether it's because a nearby school or gym just doesn't exist, or you want to complement your training to take it to another level. Here's a way to get in shape and learn to defend yourself at the same time. At DefenseOnDemand.com we understand how to teach you. When using our program you'll find how quickly you can actually learn and progress. You will quickly gain confidence in your ability to defend yourself.
As you learn submission fighting online by using DefenseOnDemand, you'll see how easy the instruction is to follow so that you are sure to get the technique down perfectly. You will also find that these skills are convenient to learn because you decide when to enjoy your lessons. Simply download our lessons and practice them as many times as necessary. Or if you prefer, you can take advantage of our instant viewing services and enjoy a streaming video distance learning experience that will give you the same interactive lessons without the download. Anytime of the day or night you can learn and in the process gain stamina, increase energy, burn fat, and increase lean muscle as we help you become the best well rounded fighter that you can be.
When you learn submission fighting with us, you can create a very individualized plan for yourself. Whether you are just beginning or you are already an expert, you will find that our training action and instruction can be an essential part of your health and fitness program. Not only will you learn how to defend yourself, but as you train you are sure to see a difference in your body. You will find that having access to Internet video fighting lessons day or night, whenever it is convenient for you, is the best way to go. We urge you to browse around the www.defenseondemand.com website and see what we can do for you. We look forward to helping you become the best that you can be!